---
Enquire
Strip Brush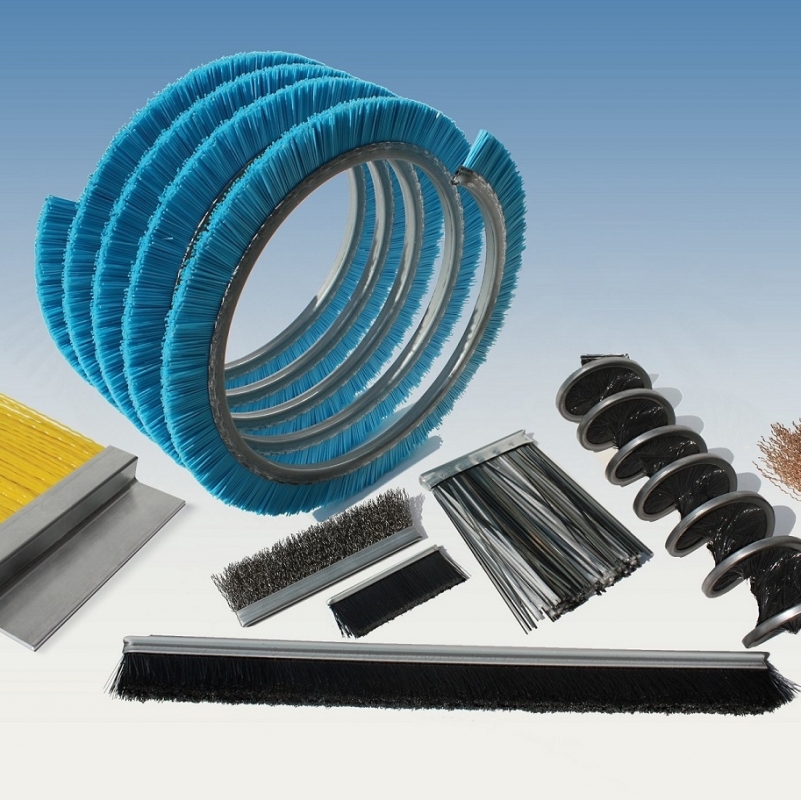 Brush Strips or Metal Back Strip Brushes, are extremely versatile in size, shape and materials and can be used across a wide variety of configurations & contours matched by a diverse selection of filaments, wires and metal back types to suit many applications. IBEX Industrial Brushes manufactures and stocks a wide range of Strip Brush ranging from 2mm to 20mm wide strips with any length of filament up to 1200mm (48") long, many available for immediate delivery.
Brush Strip can be used for a variety of finishing, brushing, grading and sealing applications.
Brushing Applications
Cleaning - an effective use for cleaning debris from conveyor systems, circuit boards, paper products, plastic film production, washing vegetables, brushing fruit, glass washing, pallet cleaning, sieve conveyors and many more applications. Strip Brushes, can be fixed for continuous conveyor cleaning but can also be constructed as a roller brush that can be mounted in a fixed or mobile position. Ibex Industrial Brushes can provide all the necessary bearings, motors, housing & parts to create you preferred solution.
Custom Applications
Industrial Strip Brushes can be manufactured and customised to fit your specific or single application. We are able to manipulate Brush Strip into most shapes and designs including straight lengths with profiled filaments, profiled metal backs, multiple coils with either external or internal filaments which can be profiled to suit the application, single discs, skirt or cup type brushes.
Finishing Applications
Strip brush can be used in a variety of finishing applications on steel, aluminium, non - ferrous metals, timber or clay.
Sealing Applications
Containment - used as part of a conveyor system to assist the transportation of goods or to prevent products from moving or escaping from the conveyor belt.
Our company has over 70 years experience of custom building Strip Brushes to suit individual requirements.
Dirt & Dust - Strip Brushes can prevent dirt & dust particles building up in factory, clean room environments, filtration systems, wood working machinery, farm equipment and buildings.
Sealing & Separating Plugs - These act as an effective separation, flow control or dividers in many different environments, these are available in specialist material fills.
Air Flow - An efficient method of air penetration and draught exclusion along with temperature control. Strip Brushes can be used to create a barrier between hot & cold environments on any barriers, doors, windows, closures or openings in either an Industrial or residential usage.
Light Exposure - Strip Brush decreases or can eradicate the penetration of light exposure in sensitive areas, for instance medical X-ray equipment, film processing, light boxes.
Barriers - Efficient as a shield or barrier, to either contain debris & detritus from all types of Industrial uses such as wood working machines, spray booths, the prevention of liquid & mist escape, smoke, fumes, smells and air movement or as a barrier to rodent or insect infiltration from external sources.
Weather sealing - Strip Brush is the perfect solution to keep out draughts and cold weather in all types of buildings, ships or platforms.
Noise Reduction - seals gaps to dampen noise.
Truck & Lorry weather flaps - vehicle guards & skirts against road debris, up to 30" in overall trim are available.
Slurry flushing

Slurry needs to be removed from a housing system either by manual tractor scraping or by some form of automatic system. The automatic systems either involve scrapers or, alternatively, a flush wash.....

Read more

Vegetable and Fruit cleaning

All types of fruit and vegetable washing brushes available to suit most machine makes. Filaments available to give optimum wear and durability.

Read more

Draught & Weather Proofing

We design, manufacture and sell a wide range of draught and weather proofing solutions from standard brush strip to Industrial grade mixed material weather seals. We have products to protect against.....

Read more
Stainless Steel Wire

Stainless Steel Wire brushes must be used when working on stainless steel to prevent contamination of the work piece. ROF: Material number WNr. 1.430 (AISI 304). This wire is resistant against corrosion and certain acids and bleaches.

Natural Fibre

Natural Fibre (FIB) is a heat resistant plant fibre, being slightly abrasive this is used for fine polishing applications as well as general cleaning. Particularly suited for use with wood based materials.